The Dubai-based system house Pearl Polyurethane Systems announced that manufacturers and end users around the world can benefit from increased availability of PU-based adhesives following the introduction of its new PearlBond adhesive range. Previously, manufacturers in many parts of the world had access to a limited choice of suppliers, constraining production levels and restricting R&D opportunities, said the company. Pearl has increased both choice and improved supply chain resilience by increasing production levels available globally with the added benefit of ongoing technical support provided globally by its fly-in fly-out R&D team.
According to the company, two major manufacturers are already utilising the new PearlBond adhesive product in their manufacturing processes and are benefiting from both short delivery times and ongoing technical support. This means manufacturers can adopt a more efficient 'Just-In-Time' (JIT) inventory model, tying up less capital by reducing the quantity of stock on hand at any one time. Pearl intends to continue its product roll-out beyond the Middle East region, with its sights set on South-East Asia, Europe, Africa, and North America.
The new PearlBond product is commonly used as a binder for running tracks, children's playground mats, and garden tiles, with a range of other outdoor use cases. PU-based adhesives are also used in sandwich panel insulation manufacturing as a lamination adhesive, as well as a roof adhesive for a range of construction applications and wood binders for structural uses. Further applications are lamination adhesives used in the packaging industry.
Kapil Deshpande, sales head CASE-applications at Pearl Polyurethane Systems commented, "When compared to competing rubber and thermoplastic materials, polyurethane-based adhesives can provide a more cost-effective and durable solution suitable for moulding and processing equipment when formulated accordingly. This is exactly where the new PearlBond adhesive can help.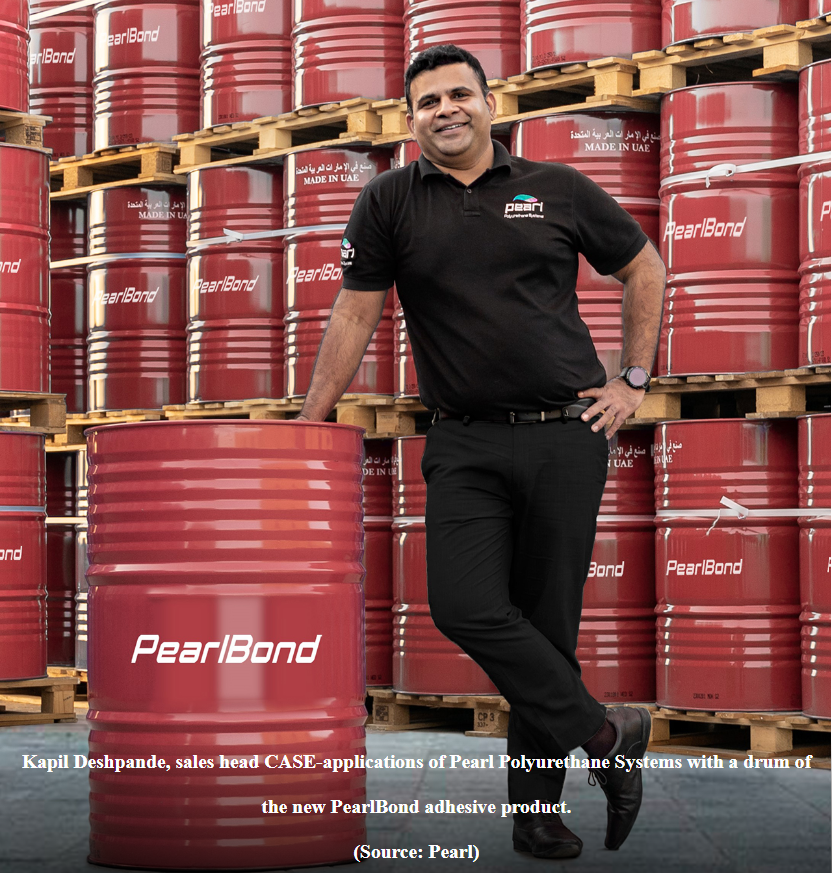 "However, our main point of difference is our agility and the ongoing technical support provided by our experienced R&D team, which provides support to manufacturers in real time using video conferencing or on a fly-in fly-out basis – especially important when urgent production or application process needs arise. It is this type of agility and quick response times that are resonating with manufacturers and end users around the world. By increasing production of PU-based adhesives, we can react more quickly to customer needs and protect against the risk of delivery delays, enabling manufacturers around the world to forecast their production plans further into the future," he said.
"Furthermore, a key advantage is our central location in Dubai providing moderate energy costs, affordable labour, access to optimised raw material sourcing, and excellent connectivity with dropped shipping rates. We are thrilled by the positive feedback so far which has exceeded our expectations and resulted in increased orders of our new PearlBond adhesive product," concluded Deshpande.
In 2021, Pearl's R&D team won the 'Innovative Insulation Project of the Year 2021' award for the first R&D initiative of its type launched in the Middle East, and again this year for launching its new, more sustainable EcoPearl insulation product which achieved an overall improvement of up to 20 % in insulation performance over comparable products. In doing so, Pearl is enabling the construction industry to play its part in the fight against global warming.
Operating since 1996, the company has supplied polyurethane systems for several trailblazing projects in the Gulf region, including Palm Jumeirah, Downtown Dubai, and Ski Dubai in Mall of the Emirates, and more recently, the Germany Pavilion at Dubai Expo 2020 and, Bustanica, the world's largest vertical farm for Emirates Airlines flight catering in Dubai.
Pearl Polyurethane also offers a comprehensive range of polyurethane formulations and prepolymers for the production of high-performance polyurethane foams and elastomers.
Read more – full article PU Magazine: Pearl Polyurethane: Increased global supply of PU-based adhesives – PU Magazine International (gupta-verlag.de)